Ma Crow and The Lady Slippers is an all-female band from Cincinnati, Ohio, and a 4-time Cincinnati Entertainment Award nominee featuring Bluegrass, Americana, and Old-time Mountain music.  Ma Crow is a legendary acoustic artist in the Cincinnati area, a CAMMY (a Cincinnati Grammy) award winner, and a multi-nominee for the Cincinnati Entertainment Awards. The band was formed in May 2011.
***  4-time Nominees for the Cincinnati Entertainment Awards ***
*** On March 25, 2013 we had the honor of performing at the Lyric Theater for the nationally syndicated Woodsong's Old Time Radio Hour in Lexington, Kentucky!  ***
The Lady Slippers include:
♦  Ma Crow (vocals and guitar),
♦  Trina Emig (banjo and mandolin),
♦  Margie Drees (vocals and fiddle),
♦  Vicki Abbott (vocals and bass).
Each member brings decades of professional experience, creating a unique blend of superb instrumentation and vocals.
Some of our recent performances include:
• 42nd Annual North Carolina State Bluegrass Festival, Marion, NC
• Museum of Appalachia, Homecoming, Norris, TN
• Hedgehog Music Showcase, Arcadia, IN
• Brown County Bluegrass Festival, Georgetown, OH
• Amvet's Post 61 Bluegrass Festival, Hillsboro, OH
• Wheeling Jamboree in Wheeling, WV
• Clifton Opry in Clifton, OH
• Pixy Theater in Edingburg, IN
• Hoosier Theater in Vevay, IN
• Woodsong's Old Time Radio Hour at the Lyric Theatre in Lexington, KY
• John Hartford Memorial Festival in Bean Blossom, IN
• Bob Evans Farm Festival in Rio Grande, OH
• River Roots Folk Festival, in Madison, IN
• Blue Plate Special live on WDVX in Knoxville, TN
• Red Barn Radio Hour WGAD in Lexington, KY
• Meadowgreen Music Park in Clay City, KY
• Red Lick Bluegrass Festival in Irvine, KY
We also play many venues regularly around greater Cincinnati area including Arnolds, Fountain Square, Eden Park, the Kenton County Library, the Cincinnati Zoo as well as live radio shows at WNKU in Northern Kentucky; WYSO in Yellow Springs, Ohio; and WAIF in Cincinnati, Ohio to name a few.
The Lady Slippers released their third album, Black Wings, August 2015 (mixed and mastered by Ron Stewart of the Boxcars).  The Lady Slippers released their second album, Memory of a Mountain, February 2014 (also mixed and mastered by Ron Stewart). This album received a stellar review in the August 2014 addition of Bluegrass Unlimited. The Lady Slippers released their debut album, Wayward Daughter, January, 2013.  The band was featured in an article in the well-known Cincinnati arts and entertainment magazine City Beat and was one of only six bands selected to perform at the prestigious Cincinnati Entertainment Awards at the Madison Theater in November, 2011.  Ma Crow's latest CD, Smoky Junction, received a stellar review in the Cincinnati Enquirer in December, 2011, and was listed in City Beat as one of the top 100 CD's in Cincinnati for 2011.  The CD was also selected by the Cincinnati Public Library to be added to their musical inventory and was reviewed in the national publication Bluegrass Unlimited.
From ballads to bluegrass and old-time to contemporary, this beautiful acoustic music is filled with artful instrumentals and sweet mountain harmonies.  This band values every show and strives to make each one special, knowing that music is a treasure and gift to be shared.
What is a Lady Slipper? It is actually spelled Lady's Slipper and is a rare, wild orchid found only in the north east regions of the United States and south east regions of Canada. They are endangered due to habitat loss.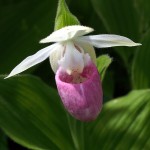 Ma Crow: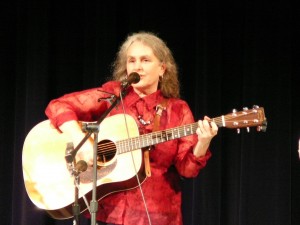 Ma Crow is a longtime veteran of folk and bluegrass music.  She won a CAMMY in 1999.  She has recorded with various artists including Harold Kennedy, Roger Yeardly, the Flock, and Plow on Boy.  She was a featured guest with the Cincinnati Women's Choir "MUSE", a member of the Irish Ramblers, Mid-Life Crisis Ramblers, M.C. Blue, Chicken Deluxe, Friends of the Family, and Katie Laur's All-Girl Bluegrass band. She played for many years with the well known Cincinnati band Ma Crow and the Flock and also formed her own bands, Ma Crow and the Medicine Show and also the Motherpluckers (nominees for a Cincinnati Entertainment Award).  Performances include the Ohio State Fair, Tall Stacks, the Appalachian Festival, the Wool Festival, Queen City Balladeers summer concerts, Taste of Cincinnati, Richwood Bluegrass Festival, and live radio shows at WNKU in Northern KY; WYSO in Yellow Springs, OH; WPFB in Middletown, OH; WAIF in Cincinnati, OH; and WFPK in Louisville, KY.
Trina Emig: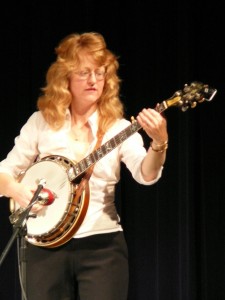 Trina Emig took her first banjo lesson straight out of high school and within 2 years was touring across the USA with Vernon McIntyre's Appalachian Grass band.  Although steeped in Bluegrass tradition, she is an accomplished musician who has developed her own style of banjo playing that makes the banjo sing.  She has authored and published a Scruggs style banjo instructional book "Becoming Banjo Worthy."  Emig owns Boopie Recording Studios and had produced three albums for the Lady Slippers, receiving high accolades.  You can also find Emig in the published book by Murphy Henry, "Pretty Good for a Girl" which is a history of women in Bluegrass music.  Trina has also performed with Kentucky 31, Missy Werner and Next in Line, Katie Laur's All-Girl Bluegrass band, Ma Crow and the Medicine Show, and the Motherpluckers.  She also played drums and recorded with Dr. Twang and the Stainless Steel.  She has made guest appearances with Bill Grant and Delia Bell in Hugo, OK and Xenia, OH as well as Women in Bluegrass at IBMA in Louisville, KY.  Regional performances include Silver Dollar City in Branson, MO; Carter Fold, VA; and the Sandpiper Inn in Baltimore, MD.  Local performances include Tall Stacks, Taste of Cincinnati, the Appalachian Festival, Arnold's, Leo's Coffeehouse, the Madison Theater, the Aronoff Center with the Cincinnati Women's Choir "MUSE", as well as live radio shows on WNKU in Northern KY. Trina has an instrumental CD available through the contact page of this website or digitally at CDBaby.  Trina's website.
Margie Drees: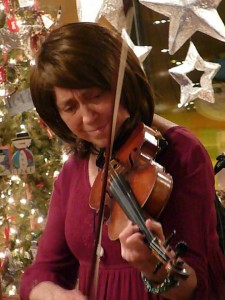 Margie is an accomplished bass player, fiddle player, and vocalist and is a graduate of CCM (College-Conservatory of Music, University of Cincinnati).  She has been playing bluegrass music in Cincinnati and Northern KY for many years and has performed regionally at the Station Inn, Nashville, TN; the Osborne Brothers Festival, Hyden, Kentucky; the J. D. Crow Festival, Wilmore, Kentucky;  Bill Jorgenson's Bluegrass Festival, Green Bay, Wisconsin; the Salt River Bluegrass Festival, Oil City, Michigan; and many others.  She has played in the Jenni Lyn Band, Appalachian Highway, Crossroads, Farm Hand, and Bittersweet (acoustic duo). She is also an accomplished song writer writing original songs performed by the Lady Slippers. Her tight harmonies with Ma, her excellent lead vocals, and her wonderful fiddle playing all make her an irreplaceable member of the Lady Slippers.
Vicki Abbott: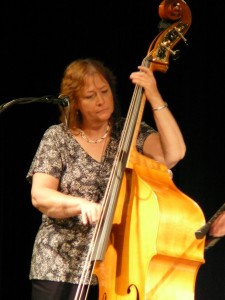 Vicki was named an Honorary Daughter of Bluegrass by Miss Dixie Hall in April, 2009 for her volunteer work since 2005 as a DJ for the on-line radio station Worldwidebluegrass.com.  Vicki has been playing bass since 2008 with several local bands including East Fork Junction.  She remembers as a young child, hearing the bluegrass and classic country that her parents always listened to, but then she got away from it for many years and didn't start listening to bluegrass again until only about 10 years ago.  "It's been like coming home.  And the friendships I'm making are the greatest blessing of all." Vicki's solid timing on the bass holds the Lady Slippers music together.  And her harmony and lead vocals are a treat to listen to.
Ma Crow and the Lady Slippers at
the Hoosier Theater, October 8, 2011: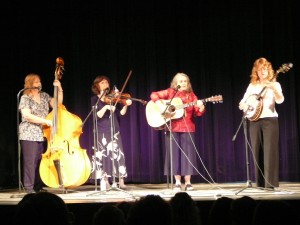 Ma Crow and the Lady Slippers at the Cincinnati
Entertainment Awards November 20, 2011: