I tried for two years to book Ma Crow and the Lady Slippers for Bluegrass in the Park Folklife Festival in Henderson, Kentucky, and finally succeeded and boy, did my persistence pay off!  This group was special from the moment they arrived at our festival site.  Friendly, professional, and easy to work with, they let it be known that they were here to entertain.  Four women, fantastic instrumental musicians all, but with closely bound harmonies usually only found in a sisters act.  Their performance – a full ninety minute set – was the hit of the festival which had a lineup that included some pretty highly touted Bluegrass artists.   Comfortable on stage, they played and sang without fault and to top it off, they were personable and funny.  They truly had the audience in the palms of their hands.  I was especially taken with the talents of multi-instrumentalist Trina Emig.  I've never heard a better, stronger, female picker.  She had every banjo and mandolin player in the house standing with their mouths open!  I would have Ma Crow and company back anytime – only thing I might do different is let them close the show.  I give them the highest possible ratings and would be glad to recommend them for any festival in the country.  Book them if you can . . . You will not be disappointed!
~ Ken Christopher, Bluegrass in the Park Folklife Festival, Henderson, KY, August 2015.
It only takes one listen to Ma Crow and the Lady Slippers to know that you have experienced a rare treat. Separately I'm sure they would each be wonderful, but the band they have combined to create is unique. Original material, excellent musicianship and beautiful harmonies separate them from all the rest. Don't miss a chance to see them live. Oh, one more thing… be certain to introduce yourself and pick up some of their music. You'll be glad you did. ~ Tim Carter, WMTN Radio 1300 AM, August 26, 2015
Review of Memory of a Mountain CD in Bluegrass Unlimited August 2014: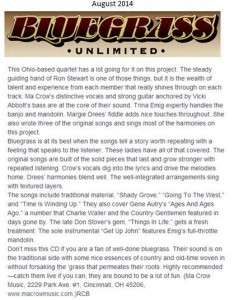 Dear Ma Crow:
I just had to contact you after listening to "Smoky Junction", "Wayward Daughter", & " Memory of a Mountain".  These exceptional projects have been in my cd player for the last 10 days.  I lost track of how many times I have played them, but is definitely in the double digits.  I loved everything about these projects.  You combined the "old time mountain sound" with "the bluegrass sound" to create a unique "ladyslippers sound".  The vocals both lead and harmony kept me riveted the entire time the projects were playing, & the instrumental work was superb!  I loved your arrangements of all the "traditional songs" giving them "a new life".  The original songs sounded as if they were written 60 years ago.  These cds are a "must have" for all bluegrass fans!  You won't be disappointed!!  I can't wait to share these projects with my listeners.
Cordially,
Al Shusterman
KCBL Radio
Prescription Bluegrass Reviews MA CROW & THE LADY SLIPPERS – Memory Of A Mountain
FRIDAY, APRIL 18, 2014
25 years ago the idea of women playing bluegrass, serious bluegrass, was still a novelty.
There was a smattering of female artists and bands back then, Lynn Morris, Laurie Lewis, Gina Britt, Deanie Richardson, The New Coon Creek Girls, The Good Ol' Persons (sorry Paul Shelasky) and Claire Lynch just to name a few.
Just to name a few I said…no letters please. But none really ever rose to national prominence. Even the Dixie Chicks went unnoticed until they dropped their bluegrass image and went mainstream country.
In the late 80′s Alison Krauss and Rhonda Vincent knocked a big hole in that wall. Others took advantage of that opening and wriggled on through. Claire Lynch became a headline act, vocalist Alecia Nugent was on the festival circuit. Kristin Benson of The Grascals was voted as an IBMA Banjo Player of the Year. Sierra Hull became a household name (hey…that's my house and your house ok?), Lorraine Jordan is making a name for herself and now the super-group Della Mae is on the A list of highly sought after bluegrass bands. Not because they are women that happen to be great musicians, but because they are great musicians that happen to be women. Ma Crow (what a great name) & the Lady Slippers are talented musicians that just so happen to be female. And that is that.
Vicki Abbott on upright bass, and fiddle player Margie Drees who wrote 3 of the 12 cuts on this their second CD. I was pleased with the eclectic selection of songs on Memories of a Mountain. Add to Margie Dree's three previously mentioned originals, public domain workhorse Shady Grove, Bill Monroe's "Get Up John", the genre' bending "Montana Cowboy" and unexpected gems such as "I Am No Mermaid" make this album more than worth slipping in the CD player when out for a Sunday drive.
It's cool that the stars aligned and allowed these fine ladies to find one another and even cooler that they have the resources and sticktuitivness to actually produce recordings of their own brand of bluegrass music. Ma & The Slippers knew what they were doing when they hired legendary bluegrass sideman Ron Stewart to mix and master this project. His knowledge of how acoustic instruments are supposed to sound shines through. What the Lady Slippers lack in precision is made up for in soul. Listen to the last cut appropriately titled "Time is Winding Up" and you'll hear what I mean.
Reviewed for Prescription Bluegrass by Marty Warburton
Cedar City, Utah / PrescriptionBluegrass.com
Posted by Prescription Bluegrass Blog at 12:09 PM
Excerpt from the Bluegrass Spin, May 8, 2013:
Cleveland may rock but Cincinnati is pickin' and grinnin' with Ma Crow and the Lady Slippers, Cincinnati's only all female acoustic band! These gals are playing bluegrass style music with a side of traditional and old-timey music. I am watching and listening to "Wayward Daughter", as performed on Woodsongs Old Time Radio Hour at the Lyric Theater in Lexington, Kentucky. This tune is the title track and just one gem of many from their latest album. While the band centers around "Ma" Crow, the Lady Slippers can each hold their own as talented bluegrass musicians and vocalists. Make no mistake. Their sound is sweet and melodious but these Lady Slippers will just as easily kick you in the butt with their hard-driving breakout bluegrass sound.
The band has a beautiful website at http://macrowmusic.com/. The band's music is available at CD Baby, iTunes, and Amazon, our preferred music partner. If you think bluegrass is just for the boys, you're missing out on some exciting music. Check out Ma Crow and the Lady Slippers today. Y'all can thank me later.
Cincinnati's City Beat magazine had this to say in an article February 27, 2013:
One of Cincinnati's best Bluegrass ensembles, Ma Crow and the Lady Slippers, has released its debut album, Wayward Daughter, a stellar collection of Bluegrass/Americana/Country standards delivered in Crow and Co.'s flawless, soul-stirring "mountain music" style. The musicianship, arrangements and vocals (melodies and harmonies) on the album — a follow-up to Crow's 2011 solo release, Smoky Junction — are impeccable.
Excerpt from Article in the Cincinnati Enquirer 2011-Dec-04 By Rick Bird
Ma Crow, 'Smoky Junction'
Ma Crow is a firm believer that "through music we bring peace to the world. I feel there is actual peace in the moments we play."
Who is to argue with her after settling in with her new CD "Smoky Junction"? It's a traditional bluegrass album that is intimate, nurturing, elegant and, yes, peaceful.
Ma Crow is a classic mountain songbird, but it's not merely the pristine quality of her voice that makes this CD special. It's her phrasing – her simple, clear delivery that tells a story going beyond just reciting some old-timey lyrics.
Brenda Wofersberger, talented musician in Cincinnati, OH
Hey Ma, Just finished listening to your CD. What a great project! Good choice for a first song – grabs the listener right at the git-go with Trina's rock-solid banjo pickin and nice bluegrass harmony singing. I just love your singing, Ma. So strong, warm, flexible, and natural. I often tell people that you have that "X-factor" of a great performer that is just magnetic. Really liked Margie's song – very good song writing! Wild Bill Jones – love this old-timey version! doesn't sound anything like the one we do. Loved Working on a Building – great harmonies! Rambling and Got to Know How both are both great vehicles for your style of singing. Really fun with just the right amount of yodel. Vicki is solid on the bass throughout, and Margie's fiddle has that great old-timey feel that fits in perfectly with the singing. Solid ensemble with a distinctive sound all your own. The CD artwork and design is supurb – I especially liked the color-coordinated, yet diverse, wardrobe choices. Kudos to Trina for excellent production throughout. You all should be proud! Hope to see you again soon. Brenda
Robert Lees, owner of the Front Street Cafe, New Richmond, OH
Its hard with words to explain just how wonderful Ma Crow and the Lady Slippers are to us. Multiple award winner Ma is a bluegrass vocalist with one of the sweetest voices you will ever hear, Trina, Vicki and Margie are all skilled musicians/masters of their instruments and vocals. Their talent, warmth, dedication to the music they play and appreciation of their audiences come together to make for an evening that is long remembered. Come join us for dinner and stay for beautiful mountain music on the softer side.. You will absolutely fall in love with this wonderful songs-from-the-heart, all women bluegrass quartet!
Angie Knight (neighbor)
As I am walking towards the front door of my eerily quite, no electric-having apartment building… what do I hear? The beautiful voice of Ma Crow with her guitar. I stood there for a moment, taking in the peace her song had just brought to me, before I headed out into this madness… Ahhh. It's the little things in life.
Musician John Redell, Cincinnati, OH:
I have had the privilege of backing her up on more than a few occasions and I can tell you from first-hand experience what it is like to watch a room full of people fall under her sway. Folks stop whatever they are in the middle of, just to peek around the corner to see where this Siren's call is coming from. Musicians try their best to play quieter than they ever have before, so her voice can float into a room of talking people and ensnare them in the middle of their thoughts, pulling on their ears with tones rarely heard on this planet.
Review of Leo Coffeehouse Performance February 26, 2012
By Julie Hotchkiss, with contributions from Eric Hansen
After intermission, the lovely Ma Crow took the stage with another of her all-girl bands, and boy could those girls play! The Lady Slippers include Trina Emig on mandolin and banjo, Vicki Abbott on standup bass and backup vocals, and Margie Drees on fiddle and vocals, with Ma Crow on guitar and vocals. Together, they created some sweet music with lovely harmonies as they played a few "cautionary tales," haunted hill ballads, and a Bill Monroe cover. It was a great 45 minutes of music that you shouldn't have missed. In fact, not too many people missed it–we had a "standing room only" audience, and they didn't want the evening to end, calling the Lady Slippers back for an encore.
Polly Hager, DJ on WAIF, 88.3 FM Cincinnati
[Ma Crow] you and your band are a little slice of HEAVEN everybody should venture to experience!

1.Kathy Zimmerman April 19, 2014 at 2:41 AM
My husband and I have been following Ma Crow and the Lady Slippers for the past three years now and are continuously delighted with their music. But the best part is seeing them live! These ladies clearly love what they are doing and enjoy doing spirited music together. They are humble, beautiful, vintage gems. Should not be missed live!
2.Anonymous April 20, 2014 at 6:20 PM
"LIVE" indeed. There is nothing like live music; especially from this talented group. Whether in a large venue, an intimate one, or at a 60th Birthday party for my wife in her sister's family room. . . . . . they are a treasure to be enjoyed. Catch 'em next time you can. You'll be impressed and entertained!
Excerpt from Article in the City Beat 2011-Nov-23 By Mike Breen
The 2011 CEA ceremony offers proof that local music is in peak condition…Local Bluegrass legend Ma Crow and her new band, the all-female Lady Slippers, huddled close around a few microphones… the band proved to be wickedly talented and charming.
The top 100 local music releases of 2011
City Beat, December 28th, 2011, by Mike Breen
Ma Crow – Smoky Junction.  A collection of covers and traditional old time songs, local Bluegrass great Ma Crow made a much welcome return to the record store bins with the full-length Smoky Junction, an olde to Crow's friends, family and home.
Excerpt from Article on Roots Music Report January 2012 by Joe Ross
Ma Crow and friends have created a pleasant, low-key album. There are weekly Cincinnati radio shows called "Abbott's Bluegrass Habit" and "Music from the Hills of Home." I'd be surprised if these purveyors of old-time mountain music don't find a fair amount of airplay on these shows. They embrace friendship, family, honesty and mountain music. We sincerely appreciate Ma Crow's dedication and devotion to these values.
Excerpt from Article in the City Beat 2011-Nov-02
As Ma Crow Flies, By Brian Baker
The band possesses a wealth of talent — Ma's history is well documented (playing with Katie Laur, The Flock, the Medicine Show, and the Mother Pluckers, as well as endless sessions and side gigs), while Emig has played with Appalachian Grass, Kentucky 31, Laur's All-Girl Bluegrass Band among others. Abbott is a DJ at WorldwideBluegrass.com and has played bass for various bands since picking up the instrument three years ago. Drees, a CCM grad, has played with the Jenni Lyn Band, Crossroads and Bittersweet, among others.
Certainly one of the best outcomes from the formation of the Lady Slippers is the quartet's unexpected Cincinnati Entertainment Awards (CEAs) nomination in the Bluegrass category. Ma is no stranger to the awards process; she won a 1999 Cammy Award with The Flock, and she's been nominated several times for CEAs (with Katie Laur's All-Girl Bluegrass Band and the Mother Pluckers). Given their short history, the Lady Slippers' nomination is particularly sweet.  With a full slate of dates coming up, the Lady Slippers look to be perpetually busy well into the new year.   ©
When She Sings
(After Hearing Ma Crow for the First Time)
by Kate Fadick, Cincinnati, OH
I've seen the place that makes this mountain woman's songs
The ones she cradles in the shiny guitar
Easy smile, eyes dancing
Like fingers on a banjo
I've seen coal-dust glazed front rooms,
Still pure mountain waters
Trillium in April, heard her hills moan in the wind
Walked where hollows cut deep into heartland
Then wrap around lives she gathers home with her singing
Musician Billy Alletzhauser of the Hiders (formerly of the Ass Ponys):
Fans of nice easy breezy bluegrass that makes you feel like you're strollin' through the Tennesse foothills; check out the new Ma Crow record 'Smoky Junction'.
Mike Guilfoyle, Hidden Valley, IN:
I'll tell you folks if there is anyone in the greater Cincinnati area, or anywhere else, that likes bluegrass music and is not following this group you are missing the ticket.  They do a really great job, tons of talent. Trina does a great job on it with the banjo and mandolin and the harmony is down right pretty.
Messages from our dear friend Nancy Simpson, Cincinnati, OH:
1. You know how I always said the whole world should hear you sing! You are a national treasure, a rare gift! You do not just sing, you become the music. Your life, your being is reflected in your music. Your profound journey, your soul, your love floats into hearts as you sing. You are amazing! ♥
2. I am so thankful that you formed Ma Crow and The Lady Slippers! You have brought such joy to my life and to all that hear you. Your music is simply the BEST in the land. Your songs take the angst of life and give it meaning. You tell the story of being a woman and of love. You fill hearts with the happiness of song. You are amazing and I am so thankful for the gift of Ma Crow and The Lady Slippers. ♥
3. Ma Crow! I am so thankful for you! I listen to your CD from your website and stare at your picture. Your songs are so hauntingly beautiful and your face brings me strength and grace. You are one amazing chica. I just love you so much. What you have done this past year with the band blows me away. You are like the phoenix, you have risen, yet again….
—————————————————————————————————————-
Entire Article in the Cincinnati Enquirer 2011-Dec-04
Click here to read article on-line
By Rick Bird
Ma Crow, 'Smoky Junction'
Ma Crow is a firm believer that "through music we bring peace to the world. I feel there is actual peace in the moments we play."
Who is to argue with her after settling in with her new CD "Smoky Junction"? It's a traditional bluegrass album that is intimate, nurturing, elegant and, yes, peaceful.
Ma has been a fixture on the local mountain music scene for years, performing with the Flock, the Mother Pluckers, and Katie Laur's All-Girl Bluegrass Band. For this effort she teamed up with longtime collaborator and multi-instrumentalist Trina Emig, who produced the CD. It is an album of both traditional and more obscure bluegrass gems such as "I've Just Seen the Rock of Ages," "The Lonesome Cowboy's Breakfast," "Foggy Mountain Top" and "Banks of the Ohio." Ma tosses in a "contemporary" tune from Gram Parsons, "Luxury Liner." All are songs Ma connects to the people she knew, and songs she heard, in her ancestral home in Scott County, Tenn., specifically Smoky Junction, her mother's birthplace.
The CD is another reminder of the rich bluegrass heritage the Queen City has inherited, thanks to the Appalachian migration. While Ma feels kinship with Smoky Junction, she was born and raised in Cincinnati.
"Like so many Appalachians, my parents left for northern factory towns to find employment," she said. "My father had his own bluegrass band in east Tennessee. I think my mom was the designated driver. … I remember them singing together with the best harmony."
Ma Crow is a classic mountain songbird, but it's not merely the pristine quality of her voice that makes this CD special. It's her phrasing – her simple, clear delivery that tells a story going beyond just reciting some old-timey lyrics.
With mostly women musicians on the album, Ma creates a kinder, gentler take on bluegrass. "It's not so high-powered, testosterone driven," she says. "You can take a breath."
Since finishing the CD earlier this year, Ma Crow has been playing out with her new bluegrass group, the Lady Slippers, featuring Emig and musicians Margie Drees and Vicki Abbott.
Entire Article in the City Beat 2011-Nov-02
Click here to read article on-line
Interview by Brian Baker
As Ma Crow Flies
After nearly quitting music all together, Cincinnati Bluegrass heroine Ma Crow returns with a new full-length album, Smoky Junction, and a new band, the Lady Slippers.  With The Lady Slippers, Bluegrass icon Ma Crow assembles her own Fab Four.  When local Bluegrass legend Ma Crow considers the question of what makes her latest group, the all-female Lady Slippers, so unique among all of the amazing outfits on her storied résumé, she doesn't hesitate in delivering her answer.  "They're ladies!" Ma exclaims at the Northside Tavern, responding figura- tively and literally at the same time. "They're down to earth, genuine. They're here for the music and I'm very inspired  when I play with them. There's no melodrama. Not only are they good musicians, they're very good people. I think it's more important that you're playing with good human beings."  The Lady Slippers have only been operating in this configuration — Ma on guitar/vocals, multi-instrumentalist Trina Emig, upright bassist Vicki Abbott, fiddler/ harmony vocalist Margie Drees — for the past six months, but the foursome has already experienced a good deal of drama. Five years ago, Ma's previous allfemale aggregation, the Mother Pluckers, began working on what would eventually become the just-released Smoky Junction album. The dissolution of the Mother Pluckers and Emig's three-year health hiatus slowed things down considerably.  "They think I have rheumatoid arthritis," says Emig, who has played with Ma for the past dozen years. "We were having a great time playing, right in the middle of recording the CD, and I couldn't do it. It was too painful. But it's in remission, so I'm glad to be playing every minute I can, while I still can. This was like a miracle."  With Emig's dim health prospects, Ma made the difficult decision to abandon the recording of Smoky Junction altogether and, coupled with the demise of the Mother Pluckers, nearly turned her back on music entirely.  "I had given up on ever recording it again, ever having a band to play with," Ma says. "I had just let it go. I thought that life is loss and it must be meant for me to do something different. Then Trina got better last year and the universe opened up. We have a CD, wonderful women to play with and things seem to be coming together. I couldn't do it without (Emig). This girl can do anything. She's got that cowgirl spirit. Get 'er done."  With Emig able to resume playing — she also produced, co-mixed and mastered the album and designed the band's website — Ma and her rotating cast of musical friends finished Smoky Junction, which is credited solely to Ma Crow due to the album's shifting personnel. The solo billing is also the result of the personal nature of the album, a collection of covers and traditional old time songs.  "It's a tribute to my home," says Ma, who was born in Cincinnati to parents who had migrated north from Tennessee. "Every song is dedicated to somebody I care about, and there are special things to people I grew up listening to. It's a dedication to my home, my friends and my family."  The formation of the Lady Slippers, which Ma christened in honor of the wild orchid, occurred after a series of happy coincidences. The band possesses a wealth of talent — Ma's history is well documented (playing with Katie Laur, The Flock, the Medicine Show, and the Mother Pluckers, as well as endless sessions and side gigs), while Emig has played with Appalachian Grass, Kentucky 31, Laur's All-Girl Bluegrass Band among others. Abbott is a DJ at WorldwideBluegrass.com and has played bass for various bands since picking up the instrument three years ago. Drees, a CCM grad, has played with the Jenni Lyn Band, Crossroads and Bittersweet, among others. Their first experience playing together as a group was clear proof of their undeniable chemistry.  "Trina and Ma needed a bass player in January for a benefit," Abbott says. "Then we played the Appalachian Culture Festival at Union Terminal. The four of us had never played together until we went to a birthday pickin' party in May."  "(Ma and I) did get together for a couple of jam sessions but it didn't really click," Drees says. "We didn't really try to sing a lot together, but when we did this last time, it really seemed to come together."  Certainly one of the best outcomes from the formation of the Lady Slippers is the quartet's unexpected Cincinnati Entertainment Awards (CEAs) nomination in the Bluegrass category. Ma is no stranger to the awards process; she won a 1999 Cammy Award with The Flock, and she's been nominated several times for CEAs (with Katie Laur's All-Girl Bluegrass Band and the Mother Pluckers). Given their short history, the Lady Slippers' nomination is particularly sweet.  With a full slate of dates coming up, the Lady Slippers look to be perpetually busy well into the new year. And with Smoky Junction finally finished, Ma and her new bandmates are planning to hit the studio again this winter to write and record a proper Lady Slippers album.  "We've talked about it," Drees says about creating original material. "We don't have anything yet, but that's one of our goals."  "I've never written anything that I thought anyone would want to listen to," Ma says. "When I was in the Flock, Dave Gilligan wrote a lot of songs, and they were either about lost girlfriends or political statements. I don't want to do either. I just want to sing about foggy mountain tops." ©